The S2S tool offers:
For the Coach:
a library with practices, readymade sessions and other resources
prepare training sessions, season and development plans
match management
communication system
reports and statistics for teams and players
design tools to prepare own drills
information to parents
For the Player:
training better at home
being prepared for the training sessions
log book per season and accumulated
For the Management:
overview all coaching and training activities
field allocation
equipment management
quality assurance
information system
Now also includes: Readymade training sessions per age group with selected favourite drills
Product upgrades are included in the price
Play Football - grassroots clubs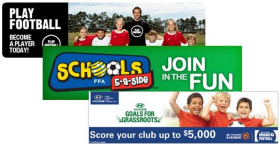 My Football Club
My Football Club is the home of community football in Australia. It is Football Federation Australia's Club Development program, aimed at supporting grassroots clubs to raise standards.
Find information here on Player Pathway, Indigenous Football, Volunteers, Futsal and more
Find a club
Register as a player
Get into Football
FFA Schools 5-a-side
FFA Schools 5-a-side provides school students from years 3 and 4 the opportunity to experience football in a fun and relaxed environment.
FFA Schools 5-a-side
The Hyundai Goals for Grassroots program
The Hyundai Goals for Grassroots program supports the growth of football in Australia by nurturing the game at its grassroots level. During each round of the Hyundai A-League Season 7, Goals for Grassroots offers one local club the chance to earn $1000 for every goal scored by the home team, with a minimum of $1000 guaranteed. Local and community based clubs can apply for selection at
Goals for Grassroots